Has there ever been a weekend like the one we are about to step into? Every where you turn or look; there is a big game or two in each of the major leagues in Europe; even the Nigerian Premier Football League is not left out with second taking on third as the pursuit for domestic honours continues.
So without much ado and fuss about it all; here is my preview of all the big games going down this weekend:
Warri Wolves v Sunshine Stars
As usual and as it has become the practice at most Nigerian Premier League teams; the issues relating to player remuneration has taken most of the shine in an otherwise pivotal Week 32 of the League season as it involves the title charge and the fight against relegation.
Warri Wolves and Sunshine Stars are among the strongest sides at home this season; even though Warri Wolves have from time to time gotten the odd draw or win here or there from away grounds; Sunshine Stars have struggled on the road most of the season and their only away win that comes to mind was against hapless Kwara United in Ilorin.
Warri Wolves go into the tie one point behind Sunshine Stars with an eye on moving to second and potentially cut Enyimba's lead to three points whilst hoping the People's Elephants drop points away to Heartland in Owerri. Warri Wolves and Sunshine Stars have almost identical records going into this tie with both teams recording two wins from their last six matches, but Warri Wolves have been able to muster three draws and one defeat as against Sunshine's two draws and two defeats. The league title race is not over yet as the out come of this match would have a huge impact on the direction of the league title this season; as interestingly Enyimba still have to play their their closest rivals in the last two games of the season.
Tunde Adeniji and  Prince Aggreh have been a deadly pair for Sunshine this season with a combined effort of more that 20 goals this season; but Warri Wolves have the ever volatile Gbolahan Salami in their ranks; in front of goal, he is one of the best strikers in the league.
My Verdict: Warri Wolves to win and climb to second on the log.
Paris Saint Germain v Marseille
It is supposed to be the biggest game in Ligue 1, but then this is a rather inconsistent Marseille side visiting the Parc D' Princes; back to back home losses against newly promoted Angers and Slovan Liberec in the Europa League have put Michel under immense pressure going into Le Classique; even though they previously held a solid home record. Marseille do not travel well and are winless away from home so far this season and continue to look out of sorts and inconsistent in performances, selections and tactics.
Paris Saint Germain look to be in very confident mood with a fully fit squad off the back of an impressive away win in Ukraine; Laurent Blanc's side look most definitely set to retain the Ligue 1 title this season as all their rivals cannot seem to find any consistency. Zlatan Ibrahimovic aims to be the club's all time with a goal in Le Classique; it would mark a special occasion for one of the clubs true legends.
Michel has toyed with different formations this season with the 4-3-3 formations seemingly the best suited to his side with Lassana Diarra at the heart of it all; but he comes up against a well oiled machine in Laurent Blanc's explosive, fast paced attack; who have scored seventeen goals this season with just four conceded. PSG are on a seven game winning streak against OM in all competitions and have won seven straight home games against OM. Every where you look; PSG look in poll position to dispense of Marseille quite comfortably and I wont bet against them doing it with grace and poise.
My Verdict: PSG to win comfortably
Ajax v PSV Eindhoven
The biggest game in Dutch Football has two former team mates going head to head with the destination of the Ere Divisie title always at stake. PSV ended their league drought last season with their comprehensive league triumph. Ajax are on the verge of breaking a long standing clean sheet record, if they are able to stop PSV scoring; if successful it would be their 8th game at home without conceding dating back to last season with seven victories of their last eight home matches.
Ajax have looked quite solid so far this season looking to win back the title lost to PSV last season as their solid start has ensured they are so far undefeated this season. PSV won on their last visit to the Amsterdam Arena, even though Ajax have won four of their last six encounters in the head to head. It would be interesting to see how both sides line up with the doubts surrounding Andrés Guardado and Luuk De Jong for PSV; the Eindhoven club need a response after their mid week defeat in Moscow in the Champions League; so expect PSV to line up in a 4-3-3 formation against Ajax's expansive 4-2-3-1 formation.
My Verdict: It will be close; but expect Ajax to win and remain undefeated in Eight.
AC Milan v Napoli
Napoli under Maurizio Sarri have continued to improve with each passing game and were impressive in their defeat of champions Juventus last week and their victory in the Europa League. They come against a Milan team that despite their lack of European exertions look jade and uninspiring; one week there's a good result and performance to cheer, the next game its an underwhelming performance. Interestingly, both sides occupy the 10th and 11th positions on the table; they need the results to ensure that the likes of Fiorentina and Inter Milan do not pull far away and that Juventus don't claw back whatever advantage they already have on them thus far.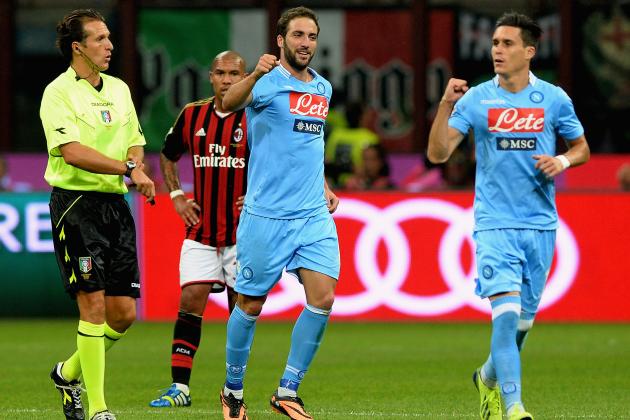 AC Milan have won their last four home games in Serie A, so that should put them in the right frame of mind to put in a performance against the Naples team; however, Napoli have struggled away from home with a winless streak away from home stretching back six games. Milan will be without Romagnoli  which will be a big loss defensively and may have to call on the nervy Ely to form a partnership with the erratic Zapata; this may just be a recipe for disaster. Napoli seem to have more balance and have a fully fit squad; as Sarri has figured out his selection priorities as it involves their domestic and continental campaign.
My Verdict: Napoli are favorites, but Milan's current home form make a draw a more likely out come.
Sevilla v Barcelona
If the outcome of the UEFA Super Cup game is anything to go by, we are in for a thrilling time; unfortunately that was months ago; almost like a pre season game. Barcelona have had major injury worries; chief of which has to be the loss of Lionel Messi for 8 weeks; then there are injuries to Rafinha and Andreas Iniesta with the small matter of the transfer embargo which prohibits Barcelona from fielding their summer signings.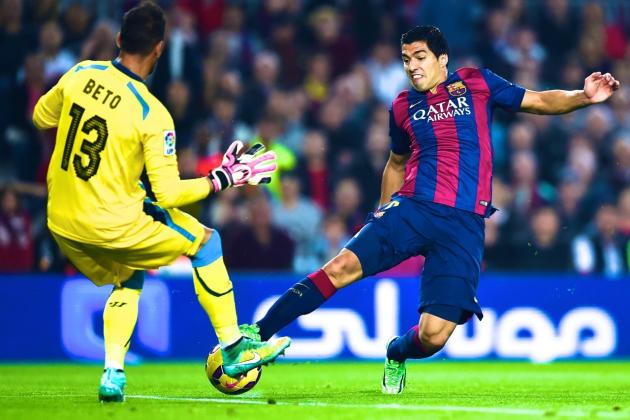 Sevilla, despite all the plaudits from last season seem to be searching for their identity especially given the number of changes made in midfield, they seem to be searching for balance in the engine room; this will come its just that it has to happen quickly. Sevilla are renowned for their daunting home record at the Ramon Sanchez-Pizjuán, but this season that has been more of a myth than reality as Atletico Madrid and Celta Vigo have visited the so called fortress and left with all three points. Barcelona incidentally won away at Sevilla before; so its not an impossible feat to accomplish with an undefeated streak stretching to 12 games against Sevilla, although Barcelona are winless in their last two away fixtures with losses to Celta Vigo domestically and a draw at Roma in the Champions League.
My Verdict: Tight game to call with the injuries and form situation, so I would call this a draw.
Atletico Madrid v Real Madrid
Real Madrid have been in celebratory mood this week with Cristano Ronaldo becoming the clubs all time leading goal scorer with 324 goals, surpassing a mark set by Raul Gonzalez. However, this is the derby and the fans,management and players associated with Atletico Madrid do not care what happens at the Bernabeu as all their focus would be on ensuring that they remain in the title reckoning though they currently stand two points behind their neighbours.
As it stands; Atletico are quite strong at home against Real as they are undefeated in their last five matches at the Vincente Calderon against Los Blancos with a clean sheet in their last four home games as well against their cross town rivals. Diego Simeone's side had started the season well; chopping and changing his forward lines; but with defeats to Villarreal and Benfica this past week; they may be a sense of worry about the amount of progress the side had made so far this season.
Real Madrid are yet to lose this season, but have struggled at times against teams they were expected to stream roll; Sporting Gijon and Malaga easily come to mind with the games ending goalless. Real Madrid have a number of injury worries particularly in defense as Sergio Ramos aims to return to partner Raphael Varane at center back with the likes of Gareth Bale and James Rodriguez expected to make a return.
My Verdict: Tough to call, but my gut tells me Atletico are good enough to win this.
Bayern Munich v Borussia Dortmund
As stated at the start of the season; once again Bayern Munich will end the season as champions of Germany; however, Dortmund would be the closest rivals to them in terms of performances and final points tally. I have been hugely impressed with Dortmund this season under the tutelage of Thomas Tuchel, he has kept a lot of the ideas from the Klopp era; they are a lot more physical and press with a lot more intensity.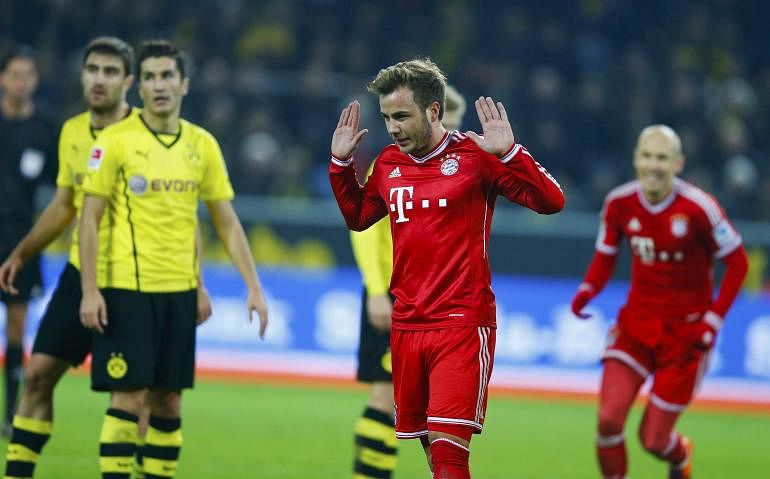 From a tactical stand point you can expect Dortmund to sit in, press and look to catch Bayern on the break with the pace of  Aubameyang and Reus as the Gabonese seeks to improve on his current record breaking goal scoring run with Nine goals scored in Seven games. Bayern Munich as is customary with Pep Guardiola will enjoy a vast majority of possession, but with the various injury worries the team needs to find balance even though they have been quite electric of late with the goals of Robert Lewandoski spurring the team on. The Polish striker faces up against his former club looking to increase his current tally of ten goals in three games.
Bayern have won their last eight Bundesliga matches with Dortmund succumbing to back to back draws with the game against Darmstadt surprising. Also both teams are even in their last six matches via the head to head; but you would have to admit that on current form, Bayern Munich are clear and overwhelming favorites.
My Verdict: Bayern Munich to win
Everton v Liverpool
Its the Merseyside Derby, the first installment this season for the fixture with the most Red cards in the premiership era. Its a tie that divides the city of Liverpool between Red and Blue lines. Both teams do not like themselves in any way shape or form with Everton currently ahead on the table so far this season. Liverpool under Brendan Rodgers have flattered to deceive despite the huge financial outlay on players and the manager is under immense pressure from the fans and the owners, the result in mid week against Sion has potentially turned up the heat on the Liverpool manager.
In the last six installments of this derby; five have ended in draws with Liverpool getting the solitary win, this time around Everton have to be considered as favorites going into this encounter. Everton are undefeated in eight games heading into this fierce derby, despite that Liverpool would still fancy their chances as they have not lost at Goodison Park since 2010. Both teams have major injury worries to top players in their squad, but would still be able to put together solid line ups to enhance the spectacle of the Merseyside Derby; watch out for some long range screamers, feisty tackles, Red Cards and last minute equalizers or winners.
My Verdict: Tough to call, but I cant see any other outcome than an Everton win.
Arsenal v Manchester United
If you were to ask both sets of fans; this is one game they do not like to lose, but this game has lost most of its relevance over the years; thanks to the emergence of Chelsea and Manchester City as title contenders; hence diluting the importance of clashes between both sides in the title reckoning.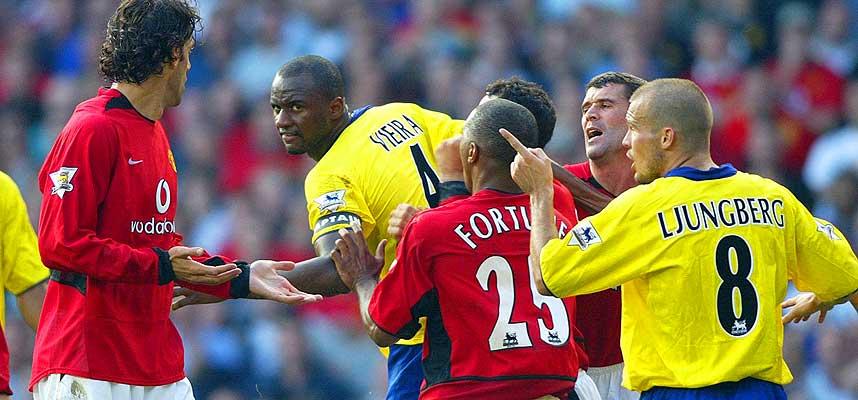 Arsenal finally got a win under their belt against Manchester United after fourteen games with a win in the FA Cup, but the Manchester side have dominated league clashes between both sides with the Red Devils undefeated in their last eight matches against the Gunners. Arsenal have many injury worries, the most damaging may be the absence of Laurent Koscielny; who has stood out as probably the best defender at the Emirates. The woeful performance in the Champions League against Olympiakos may still linger in the hearts of the players as they aim to bounce back from that unfortunate result that has put qualification from the group stage in jeopardy. Louis Van Gaal's major issue has to do with the composition of his defense as injuries to Luke Shaw and Marcos Rojo has forced the manager to make some alteration to his back four; the return of Phil Jones may just hand him a berth to partner Chris Smalling with Danny Blind moved to left back; this may dis-stabilize the understand already built in the center back position between Blind and Smalling.
Even though, it is no longer a feisty encounter with one controversy or the other rearing its head; it is still a game no one wants to lose. United won at the Emirates last season with only two shorts on target, stretching their undefeated run in their Premier League from May 2011. Both teams need the result as a win for Arsenal would move Arsenal level with Manchester United in the top four positions; but victory for United would move them six points clear at the top to hold top spot in the league for the second consecutive week.
My Verdict: Tough to call; a draw would satisfy both parties