Finally Ze Germans return to the football pitch as the Bundesliga resumes after the winter break and as usual Bayern look poised more than ever to retain their title especially with the impending departure of Pep Guardiola at the end of the season with the likes of Dortmund, Leverkusen, Gladbach and outsiders Herta Berlin looking to act as party poppers. England provides us with a big London derby, Spain serves up a clash of two of the also rans, France has a double hitter of table toppers and previous champions going head to head and as usual I deliver my betting punts.
Arsenal v Chelsea
Surely Arsene Wenger would be one manager that is so pleased to see the back of Jose Mourinho. Arsenal have struggled against Chelsea for quite sometime and even in Chelsea's worst run of form; the Blues have somehow been able to get a favorable result. It was thought that Arsenal may have broken the Chelsea hoodoo with the Community Shield victory, but Chelsea found a way in the first league meeting at the Emirates with the aid of Diego Costa and his antics.
Arsenal have not won a competitive fixture against Chelsea since 2011, that does not make for good reading at all; especially with the Gunners earmarked as title favourites, these are the kind of games they should be winning. Chelsea under Guus Hiddink may have stopped the defeats, but the victories just won't come. Interestingly, Chelsea have only mustered one win each month since the season started in August; the worst performance by any defending league champion in history that I can remember. A gap of 19 points exist between both teams; it is not a definition of the gap of quality between both sides, but rather a demonstration of the rather unfortunate circumstance Chelsea Football Club find themselves in.
Both teams expect to welcome back key personnel with the likes of Mesut Ozil, Alexis Sanchez and Eden Hazard expected to make a return to the side. Arsenal have had a great record at home this season with one defeat and draws to West Ham, Spurs and Liverpool respectively the difference from having a perfect home record. Chelsea on the other hand are undefeated in their last five games even though, there's only one win in that period. The Blues are undefeated in nine of their last ten matches against Arsenal and have kept a clean sheet in their last five league meetings.
My Verdict: Looks like a draw to me, but Arsenal looked poised for a first competitive win since 2011.
My Betting Punt: Both Teams to Score comes @1.72
Juventus v Roma
Luciano Spalletti is one manager I have admired for quite sometime, particularly with the way he got Roma to play in his first stint; using the intelligence of Roma legend Totti on and off the ball to good effect in his own version of the False Nine system. He didn't get off to a good start, drawing at home to Serie A's worst team, Hellas Verona, in a quite disappointing performance; Spaletti wont be looking forward to facing the Big Monster called Juventus at a time like this, with Roma still in so much turmoil after the departure of Rudi Garcia and the purported and imminent transfer of some top players from the club.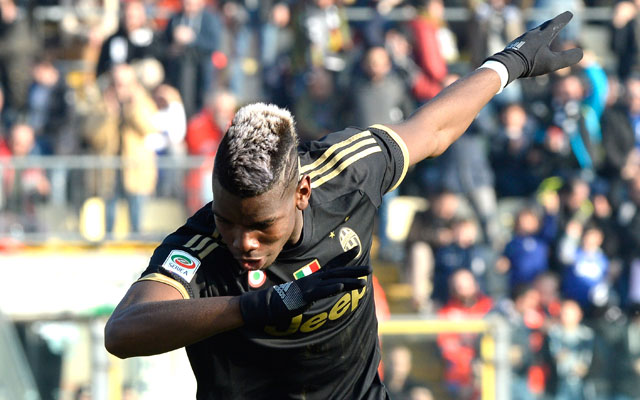 Juventus are in sparkling form, the in form team in the top five leagues in Europe; currently on a ten game winning streak in Serie A and twelve games on the spin in all competitions. Juventus have found their groove and their swag back; even when they seem to be struggling in games, they seem to always find a way to get a result. The Old Lady are a ticking clock, all the players are in tune with the Allegri's approach and what he intends to achieve with the team; this is finally his team, Allegri's Juve.
My fear for Roma lies in Spalletti aiming to change things too quickly, chopping and changing formations and potentially alienating some players from the squad. His choice of Nainggolan to play in the hole behind the striker seems a strange one; considering that Pjanic takes a deeper role. He may need to change this around to cope with the intensity and physicality of Juve's  midfield. Roma need to check their declining form; four draws in their last four away games is a big worry, coupled with the fact that Juventus have won their last five home games against Roma.
My Verdict: Juventus Win.
My Betting Punt: Juventus win @1.67
Atletico Madrid v Sevilla
At the beginning of the season, I took a look at Diego Simeone's squad and I felt they were strong enough to challenge Spain's big two; they have not disappointed in any way and have continued to find a way to get results. Sevilla on the other hand, are a different kettle of fish; after a superb cup run last season culminating in winning the Europa League for the second time in succession. This season, Sevilla had struggled to find the form from last season, been largely inconsistent, but lately have bounced back to get some encouraging results with four back to back victories.
Simeone's side look close to full strength with the exception of Thiago and Fernando Torres who remain injured and will miss out. Atletico Madrid have made incursions into the Transfer market as the window remains open, signing Antonio Fernandez from Celta Vigo; who has slotted in smoothly. Interestingly, Simeone's rotation policy has not hurt the team's balance, chemistry or form, this has helped a number of players such as Saul, Correa and Vietto staking claims to starting positions.
Atletico Madrid have a great record against Sevilla; they are currently on a twelve game unbeaten streak against the Andalusian club. Simeone's side have become quite impregnable with clean sheet after clean sheet leading to four straight games without conceding  a goal. Sevilla have struggled away from home this season and have failed to win their last nine games away from the Sanchez Pizjuan and Atletico have won nine of their last ten La Liga Matches; the capital side seem primed for another victory.
My Verdict: Atletico Madrid to Win.
My Betting Punt:  Atletico Madrid to win by one goal @2.97
Borussia Monchengladbach v Borussia Dortmund
You can call it the Borussia derby if you may; for me its the battle of the also rans, two teams that have intentions of wrestling the title from Bayern Munich. Unfortunately, both are far from the mark and the gap between them and Bayern continues to increase week in week out. Nine points separate both sides with Dortmund ahead as the team closest to Bayern; Gladbach on the other hand have the pleasure of been the only side to have defeated Bayern Munich this season, despite a poor start to the campaign; André Schubert has gotten the team playing some good football.
Dortmund have had their squad some what depleted with the departure of Jonah Hoffman to Gladbach and Adnan Januzaj returning to Manchester United; however their squad remains quite strong. Dortmund have been scoring freely this season and have one of the hottest strikers in Europe in Pierre Eric Aubameyang in their ranks. Thomas Tuchel has somewhat changed the identity of this Dortmund side and it seems like they have made a gradual departure from the Klopp era.
Interestingly, Gladbach up on till the winter break had been in good form winning six of their last seven home matches and have a good recent home record against Dortmund with three straight wins in all competitions.
My Verdict: You can expect a high scoring draw
My Betting Punt: This looks like a goals punt; Over 2.5 goals @ 1.45 is ideal.
Paris Saint Germain v Angers
It is safe to hand over the title to PSG now and we all just look away from the Paris team and watch the rest of Ligue 1 fight it out for the remaining European places and relegation battles. I must say though, like I have repeated on many occasions, that I have been impressed by the newly promoted sides as they have rubbed shoulders with the elite like they have been here before especially Angers.
Angers are currently in fourth; talk about over achieving; for the love of me.I am sure at the start of the season all they would have had in mind was to just survive. Angers are the Leicester City of Ligue 1, punching above their weight week in week out and have the honour of been one of the few teams not to lose to PSG this season, holding them to a nil-nil draw.
PSG have failed to put games to bed early since the winter break, they have been less prolific as set pieces seem like a viable out let now as the fluidity seems to have deserted them. PSG have won all four of the games played this year so far, so current form is not an issue.
My Verdict: PSG to Win.
My Betting Punt:  PSG to win @1.16
Olympique Lyon v Olympique Marseille
Some seasons ago, these two teams would have been going head to head; but both teams are in a different space now, under the tutelage of a new set of managers asides those that tried to run PSG close last season.
Lyon lost the derby with Saint Etienne last week despite having such a good record away at their rivals; this weekend, they come up against a resurgent Marseille who have been very solid away from home this season under Michel, but have found home comforts difficult to come by this season winning only two games at the Velodrome as against five wins from ten home games.
Both teams have struggled with injuries so far this season, but are gradually on the mend and would be glad with the progress made in the cup competition. Marseille's back to back victories is a huge boost coupled with their solid away form would look to cause Lyon problems. When both teams met earlier in the season with was a feisty affair; so you can expect sparks to fly in this one.
My Verdict: Can write off Marseille; but a draw seems likely.
My Betting Punt:  Both teams to score @1.74
*** A Punt of N500 based on these tips will fetch a return  N13,000