There were shock waves in Italy and England this past weekend as two of the big teams lost to lesser lights in newly promoted sides. Milan lost to Hellas Verona whilst Manchester City with all the big money transfer lost also to Cardiff City.
The heroes of Verona and Cardiff are unlikely members of our team of the week this week, hopefully they can maintain this tempo and survive from relegation. On a week when Italy joined the party, we have four representatives for the Serie A, Two from the Bundesliga,  Three from the English Premiership and two from La Liga in a 4-2-3-1 formation.
Our team of the week is as follows:
Simon Mignolet showed the world why Liverpool were comfortable enough to let Pepe Reina leave for Napoli, with two clean sheets back to back and a string of world class saves, he may be the difference in having a top six finish for Liverpool. Our back four comprises the young, energetic and industrious Seamus Coleman; another from the long line of talents from the Everton conveyor belt with an assured, resolute performance against Wigan.  Tata Martino seems to be taken to Adriano ahead of Jordi Alba for the left back position; what a way to make the position yours other than to score the winning goal and giving a competent defensive performance. In the Central defensive positions; Raul Albiol had an impressive debut for Napoli and Domenico Maietta built the great wall of Verona to stop the attacking onslaught of the likes of Mario Balotelli and the rest of the Milan team.
In Midfield, we have gone with Paul Pogba. the best footballer in the world at Under 21 level; his development has being quite fantastic and unbelievable. If you have a fantastic game against Manchester City, its a big deal; but stopping the locomotive called Yaya Toure from having no influence in the game is a really big deal; Gary Medel had an absolute peach of a game.  When you come against the Ribery/Robben axis you know what happens; a Bayern win is assured. Frank Ribery put up another 5 star performance for the Bavarian giants and we make bold to say he will pick up the Uefa European player of the year award at the gala on Thursday; his partner in destruction as always Arjen Robben finished off Nurenburg with a wonderful solo run to hand FC Hollywood the maximum points. For Diego Simeone to compete favorable against the big two of Real Madrid and Barcelona; he needs players like Diego Costa to be at their very best week in week out as they effectively have to still replace the 30 goals a season they enjoyed with the presence of Falcao; but Costa was great as Athletico put five past Rayo Vallecano.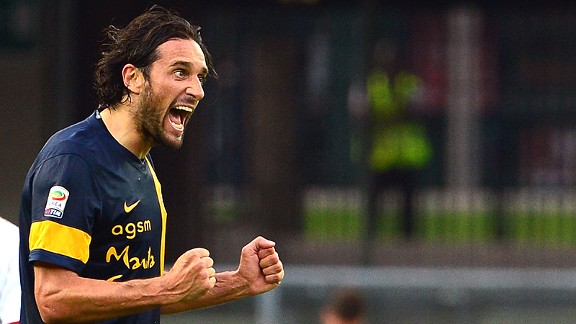 There is a saying that states that " the older the wine, the sweeter its taste"; I believe we can say the same for legendary striker Luca Toni, who has turned up at Hellas Verona on a 40% wage cut but with his hunger for the game intact, capping a return to Serie A for himself and Hellas Verona with a typical headed brace. scoring his 41st headed goal in his Serie A career only behind the likes of  Oliver Bierhoff (44), Aldo Serena (43) and Alberto Gilardino (42) in the headed goals all time table.
Of notable mention are Paulinho and Etienne Capoue of Spurs with Kim and Frazier Campbell of Cardiff City for their fantastic displays over the weekend for their clubs; they just make it to the bench somewhat.
Malky Mackay (Manager of the week) could not have asked for a better way to start his league campaign at home, but with a fabulous victory over former Champions, Manchester City. The rest of the Premiership have been warned.