Just as other fans had been writing about their frustrations and their expectations for their favourite clubs before the league kicked off, I wanted to write about my darling Manchester City and their 2016/17 English Premier League campaign.
But I decided against it. "Pep is a very unpredictable and unconventional coach,"I thought to myself. And it's true: None can exactly say what he'll bring along with him on any certain day and so, I decided to wait till after The Philosopher's first game-in-charge before writing anything on the Citizens; after the Sunderland game, there was plenty to talk about. And I've touched on some in this piece.
Sweeper Keeper, Different Keeper
Pep Guardiola has kick-started the "revolution engine" in the blue half of Manchester by introducing some new tact and converting some players. In his first game on Saturday, he chose to pick Caballero over Joe Hart.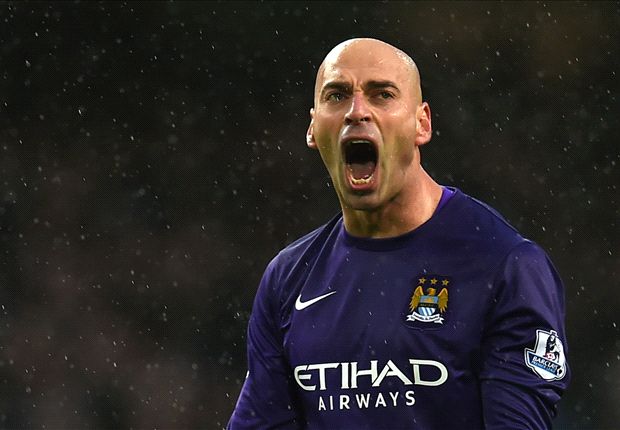 But this Caballero was a different one. Not in a bad way though. This Caballero was "all of a sudden" reluctant to play long balls. He preferred to pass the ball to Kolarov or Stones rather than trying to find Aguero upfront. Whenever his Center Backs got marked, he directed his kicks to the sides where Sterling and Nolito were waiting.
Also, Caballero wasn't afraid to come off his line to make clearances; another familiar feature of a goalkeeper under the Pep.
Building Up Play From the Back… Painstakingly!
As a fan who has seen plenty of games, it was a bit surprising to see City players spend a lot of time on building play from the back. Under Pellegrini and Mancini, we were used to the "Fernandinho-drags-it-from-the-defense-passes-it-to-Silva-who-passes-to-Aguero-for-the-goal" kind of moves.
But it was shocking to see the Center Backs exchange so many passes. No player was in a hurry to kick the ball forward. Matter-of-fact, they seemed to be more interested in kicking the ball back to their own half, than going forward.
Of course they were those "Old Man. City" moments of lightning-quick counter-attacks but with around 600+ passes completed, it's more than obvious: The Philosopher is in town.
The Conversion Has Started!
Pep Guardiola is not a coach afraid of making changes (no matter how weird it is). He'll switch players, twitch formations and still get the results he wants. Not a lot of coaches can do that.
Against Sunderland, the formation on paper was a 4-1-4-1 formation, with Fernandinho to play as the holding midfielder. When the game started, the formation switched to something like a 3-2-4-1 formation (lol, if there's anything like that), with Sagna and Clichy spending more time in the midfield and Fernandinho enjoying his position between Stones and Kolarov, the center backs of the day. I almost forgot to mention Nolito playing wide.
Pep Has Brought His "Philosophies" To the City
Kolarov has become a center-back. Fernandinho may soon become a permanent center-back too. But where will Otamendi, Kompany and Mangala fit into? In other news, the story of Manchester City's full-backs may just be another Lahm tale.
Joe Hart is uncertain with reports of a certain Claudio Bravo's arrival rife. Aguero, Silva and De Bruyne look untouchable but, who knows what's next for Yaya Toure or/and Fernando?
Funny enough, Pep seems to want to surprise all with the most-unlikely name: Raheem Sterling who was the Man of the Match against Sunderland. The formation change has not been much of a surprise though.
No one knows what's coming next from Pep and the Citizens. But after his first game-in-charge, Manchester City fans are in for a football season of a lifetime!